Custom 3D Space Planning
Your new tool for faster and more accurate space planning.
Unleash the full potential of your space and help clients make informed decisions by using 3D space planning technology. 
Transform traditional 2D black & white floor plans into immersive 3D models
✓

Best-in-class 3D walkthrough
✓ Showcase your ESG features
✓

Faster

test fit

process
✓

Differentiator for your company
✓

Accessible on any device, anywhere
Challenge the status quo of space planning
Traditional space planning services are time-consuming, tedious and require a lot of resources. The result is an outdated black & white 2D floor plan, making it difficult for tenants to visualize the office space.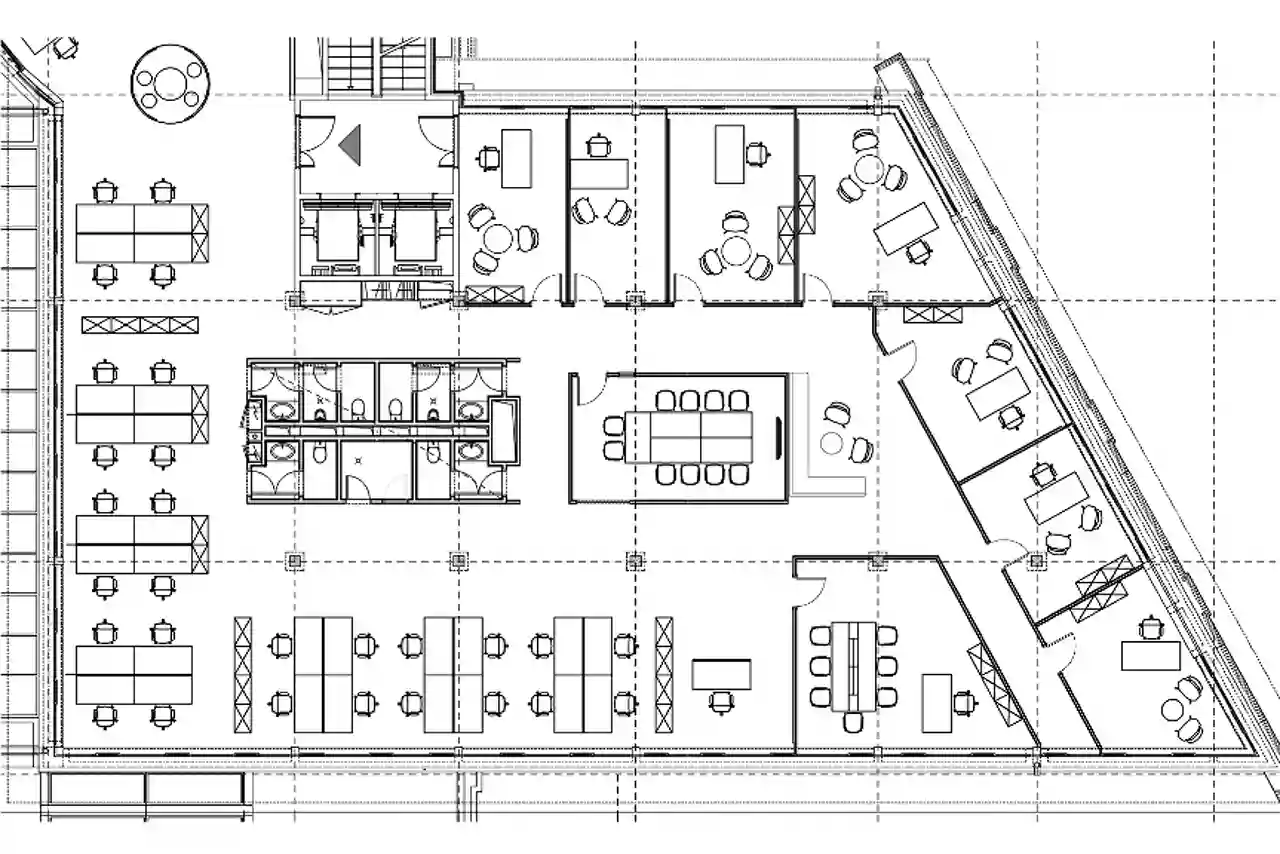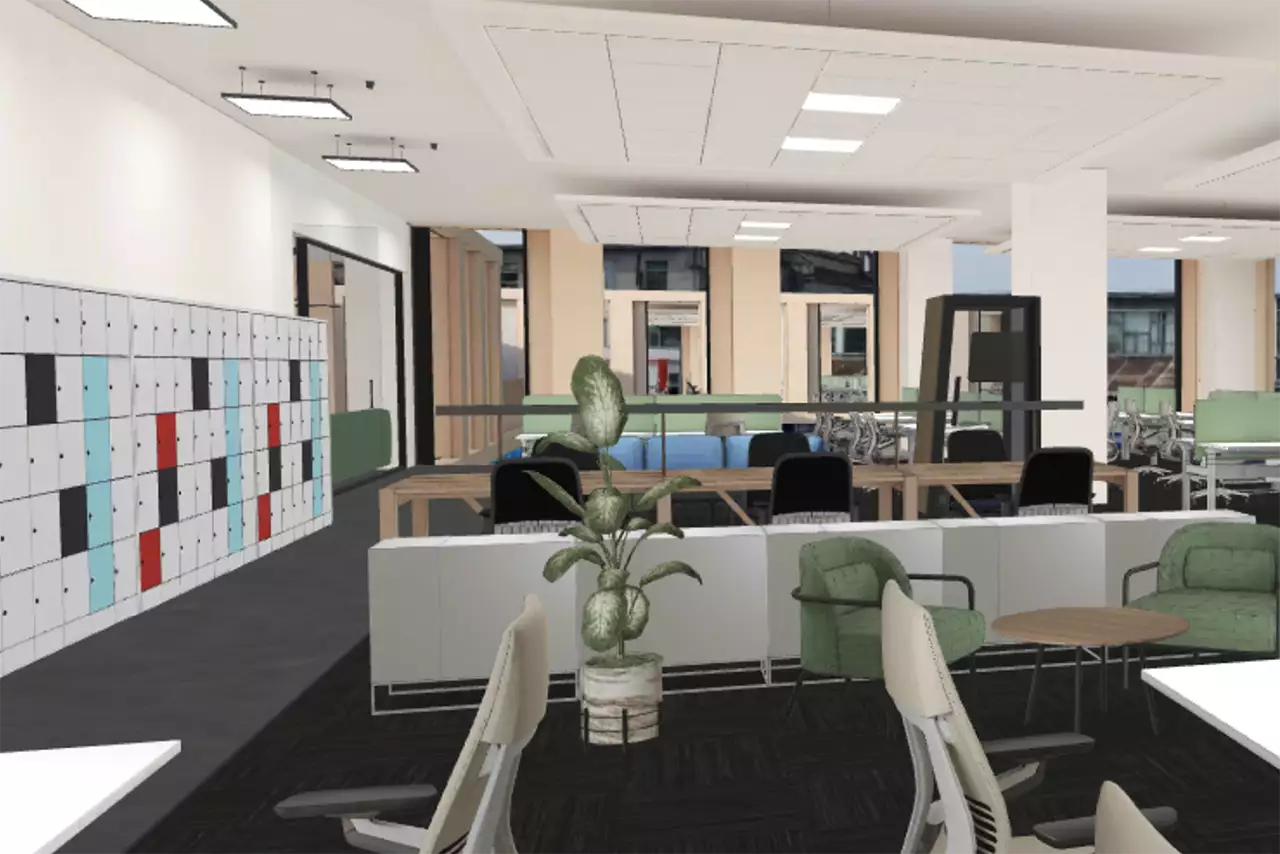 Custom 3D test fits for offices
Set a new standard in space planning innovation.
Transform Your Floor Plans Into Immersive 3D Designs, In No Time
Equip yourself with a powerful tool to gain a competitive edge in the market. Our solution offers stellar space planning, best-in-class 3D walkthroughs, and an ESG focus, enabling you to create more appealing spaces while highlighting its sustainability features. With the ability to showcase real look and feel CGI renderings, you can captivate potential tenants and accelerate the decision-making process.
Elevate Your Offer with Personalised 3D Virtual Tours And Effortless Decisions
You play a crucial role in guiding clients through the real estate journey. Elevate your services by providing immersive 3D virtual tours, personalised with your branding and contact details. This not only enhances your professional image but also strengthens the connection with end-users, facilitating a seamless and efficient decision-making process.
Streamline Your Space Planning Process and Save Resources and Time
Leverage the enhanced features of Custom 3D Space Planning to revolutionise your approach to space planning. By offering upgraded 3D models instead of basic black-and-white 2D plans, you can showcase your creative skills and provide clients with a more immersive experience. Our solution enables you to highlight essential space features and incorporate ESG specifications.
Deliver Exceptional Planning Experiences with Immersive 3D Virtual Tours
Leverage Custom 3D Space Planning to provide your clients with an exceptional and comprehensive planning experience. The solution seamlessly integrates with your market knowledge and expertise, enabling you to offer personalised and visually engaging 3D virtual tours. You can now present a wide range of renderings from selected angles, giving tenants a realistic understanding of their future office space.
This tool facilitates a seamless communication process between all involved parties. With this digital solution, it becomes simpler and more efficient to share and iterate ideas, thus leading to a design that truly meets the needs of the space operator. Through this tool, architects have the ability to visualise and make changes in real-time, setting it apart as an invaluable asset in our modern design process.

Radu Călin
Interior Architect, PickTwo Studio
Bright Spaces' space planning solution is a game changer that transforms the tenant experience. Through its immersive interface, it allows future tenants to visualize their space and make informed decisions with confidence, bringing their imagination to life. Not only does it enhance the negotiation process for us, as owners and developers, but it also sets a new standard for the real estate industry.

Ingrid Baltaretu
Marketing & Communications Director at River Development
Talk to a Bright consultant today.
Accelerate your leasing processes with
custom 3D space planning.
Cătălin Drăguțoiu
Head of Sales EU Region
catalin@brightspaces.tech
+40 751 220 886
Daria Mircea
Senior Workplace Architect
daria@brightspaces.tech
+40 722 512 900
F.A.Q.
Find the answears to your questions
What do I need to get started?
If the building already has a digital replica built by us, all you need
to do is send your clients a short survey provided by us with questions about their space needs (e.g. number of desks, dimensions, collaboration areas etc.).
If the building is not in our portfolio, we will need the floor plan and cross section to create the digital space.
Can I request more space plans at the same time?
How many revisions can I request per space plan?
You have one revision included per test fit, and extra revisions will be discussed depending on the complexity.
What if I already have a 2D plan?
When you already have a 2D floor plan, it will speed up the process of delivering the 3D space plan.
Interested in innovating?
Fill in the form and we will get in touch with you.
Bright Spaces is committed to protecting and respecting your privacy, and we'll only use your personal information to administer your account and to provide the products and services you requested from us. From time to time, we would like to contact you about our products and services, as well as other content that may be of interest to you. If you consent to us contacting you for this purpose, please tick below to say how you would like us to contact you: You can unsubscribe from these communications at any time. For more information on how to unsubscribe, our privacy practices, and how we are committed to protecting and respecting your privacy, please review our Privacy Policy. By clicking submit below, you consent to allow Bright Spaces to store and process the personal information submitted above to provide you the content requested.
Bright Spaces is committed to protecting and respecting your privacy, and we'll only use your personal information to administer your account and to provide the products and services you requested from us. From time to time, we would like to contact you about our products and services, as well as other content that may be of interest to you. If you consent to us contacting you for this purpose, please tick below to say how you would like us to contact you: You can unsubscribe from these communications at any time. For more information on how to unsubscribe, our privacy practices, and how we are committed to protecting and respecting your privacy, please review our Privacy Policy. By clicking submit below, you consent to allow Bright Spaces to store and process the personal information submitted above to provide you the content requested.
Bright Spaces is committed to protecting and respecting your privacy, and we'll only use your personal information to administer your account and to provide the products and services you requested from us. From time to time, we would like to contact you about our products and services, as well as other content that may be of interest to you. If you consent to us contacting you for this purpose, please tick below to say how you would like us to contact you: You can unsubscribe from these communications at any time. For more information on how to unsubscribe, our privacy practices, and how we are committed to protecting and respecting your privacy, please review our Privacy Policy. By clicking submit below, you consent to allow Bright Spaces to store and process the personal information submitted above to provide you the content requested.
Bright Spaces is committed to protecting and respecting your privacy, and we'll only use your personal information to administer your account and to provide the products and services you requested from us. From time to time, we would like to contact you about our products and services, as well as other content that may be of interest to you. If you consent to us contacting you for this purpose, please tick below to say how you would like us to contact you: You can unsubscribe from these communications at any time. For more information on how to unsubscribe, our privacy practices, and how we are committed to protecting and respecting your privacy, please review our Privacy Policy. By clicking submit below, you consent to allow Bright Spaces to store and process the personal information submitted above to provide you the content requested.
Bright Spaces is committed to protecting and respecting your privacy, and we'll only use your personal information to administer your account and to provide the products and services you requested from us. From time to time, we would like to contact you about our products and services, as well as other content that may be of interest to you. If you consent to us contacting you for this purpose, please tick below to say how you would like us to contact you: You can unsubscribe from these communications at any time. For more information on how to unsubscribe, our privacy practices, and how we are committed to protecting and respecting your privacy, please review our Privacy Policy. By clicking submit below, you consent to allow Bright Spaces to store and process the personal information submitted above to provide you the content requested.
Interested in one of our Pricing Plans? 
Fill in the form and we will get in touch with you.
Bright Spaces needs the contact information you provide to us to contact you about our products and services. You may unsubscribe from these communications at any time. For information on how to unsubscribe, as well as our privacy practices and commitment to protecting your privacy, please review our Privacy Policy.